Prevention Stories of Hope
Journey to Nepal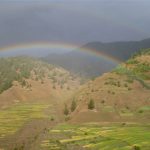 The way was not easy especially after the rain. The good driver has to choose the right path and the hard ground because without warning the sand becomes mud. We want to reach the forgotten women. We want to reach the unreached. These two people I am travelling with are doing just that. They leave their families and travel far away to go where the path ends.
Where our journey ended was a little town in the middle of the mountains, surrounded by beauty and majesty. Around seven thousand people are living there mostly in poverty, struggling to have fresh water and enough electricity every day. There aren't many opportunities to earn money in Mugu. There are not many vegetables growing at this time of the year. Potatoes and beans were the everyday choice, and of course rice and dhal. It is not surprising that our patients come from the far away villages, from the remote places of Western Nepal. But it is hard to find them, suffering alone, sometimes rejected by family and neighbours.
The International Nepal Fellowship (INF) fistula training nurse Dil Kumari Giri provides training to nurse midwives from around the region about safer motherhood, how to monitor a delivery, and how to recognize prolonged/obstructed labour. She explains to the nurse midwives how they can help a woman deliver her baby safely and prevent long labour, thereby preventing fistula. She also teaches them what a fistula is, the symptoms, and what we can do to help them.
She tells them about the fistula camps INF organizes every year. Under makeshift tents medical staff set up a temporary medical site where women can be treated for fistula. She gives all the trainees the phone number of INF or, if needed, her own number. She is willing to be called in daytime, but also in night or on her days off.
Dil Kumari left her family behind to train the health workers who in turn will pass the knowledge on to their colleagues in the villages. They will spread the word to the little remote houses, far from the bigger and smaller towns where it reaches our fistula patients and can give them a spark of hope.

(Trip described by Dr. Pauline van Ooijen, doctor from the Netherlands working with Dr. Shirley Heywood)
Nyura's Hope Story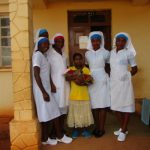 Celebrate with us the success story of Nyura, a beautiful sister who lives in a rural part of Angola. Nyura had a fistula repair in 2007 and was able to get pregnant again. Women who have been healed from fistula are counseled to deliver their future children via cesarean sections so they do not re-injure themselves and develop a repeat fistula. Nyura met with our partner doctors at Kalukembe Hospital after the start of labor and a healthy baby was delivered via c-section under their care. Nyura's family was unable to pay the full cost for the surgery, so the remainder of the charges was covered by Hope for Our Sisters' Maternal Health Fund.
A new venture for HFOS, the Maternal Health Fund accounts help women requiring maternal health care but who lack the funds to pay. These funds are available to women with a prior fistula repair as well as those who have never suffered from fistula but require emergency maternal care. Preventing a repeat or new fistula protects our sisters from sliding back into a life of rejection, isolation and pain, and also prevents the death of their children. Every woman and child deserves emergency care, regardless of their ability to pay. Drs. Priscilla and Daniel Cummings have expressed a particular gratitude for the availability of the funds when necessary; they want Kalukembe Hospital to be a place where "women survive and thrive". These Maternal Health Fund accounts enable women like Nyura to continue building their families and spreading hope of a renewed life after fistula repair.
A community issue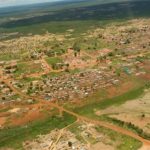 On a trip to Angola, we traveled by way of a small plane to the other side of Angola, a flight of 5 hours. Moxico is the biggest province of Angola and, although there are several small health posts and a municipal hospital, it is quite isolated and most of their products still come in with the canoe from Zambia.
About 100 community leaders, pastors and community elders came for the fistula awareness and prevention training. The first day we broke up into small groups of 10 and discussed social issues that lead to fistula, in particular the pregnancies of girls under 18.
On the second day we had a large group of women. We explained in more detail about how to have a healthy pregnancy and baby and important steps, such as pre-natal care. We also taught them about risks for getting fistulas. The women came with lots of questions and we discussed the many causes of fistulas in Angola. We also told them about treatment for fistula at the Lubango mission hospital, Centro Evangélico de Medicina (CEML). Sadly many people knew women who have fistulas and we discussed ways they could travel for treatment to CEML.
On the last day, we once again spoke with a group of men and women. We discussed the urgency of investing in their children and youth. Two-thirds of our population in Angola is under 18 years yet there are few programs focused on working with them.
As often happens, the administrator of the local hospital invited us to come and give a teaching also in the hospital. Our time was too short but we hope to come back one day!
(Work described by Petra and Yolanda, Prevention and Empowerment Facilitators)


More stories: Treatment