Empowerment Stories of Hope
Salome's Basket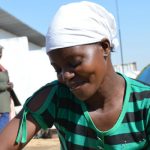 When we traveled to Angola in 2013, we were heart-broken seeing the beautiful women with fistula simply sit as they awaited surgery at our partner hospital, Central Evangelical Medical Center (CEML). Due to complications from infection and/or the need for multiple surgeries, some women would sit for up to two years awaiting their procedure. Can you imagine just sitting? We knew we could not force them to be productive, but we believed they were meant for more while they awaited healing.
On another trip three years later, we were overjoyed when we saw three of the women making baskets! Salome (pictured) is one of these precious women. Brooke shared with her through our interpreter that if Salome finished her basket by the end of the week, she would buy it. Well, Friday came and Salome was not yet finished. However, Brooke wanted it anyway! Brooke knew this was just the beginning of fulfilling empowerment work that would one day be offered to our sisters.
When Brooke offered to buy the unfinished basket, Salome was shocked and full of joy. She smiled from ear to ear. Brooke asked her to leave the stems of the plants used in the basket to show everyone back home in America. Audrey (CEML Fistula Advocate) also bought two baskets from another sister. The other women with fistula thought Brooke was crazy to buy an unfinished basket, but these purchases sparked something beautiful. Within a few months, as many as nine women were making baskets and today, through the efforts of Petra and Yolanda (Fistula Awareness and Prevention Advocates), they are learning to make and sell many beautiful items. Our sisters are seeing they are able and we are thankful!
Petra & Yolanda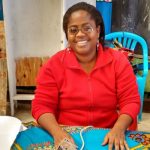 "We at Hope for Our Sisters have always dreamed about the future empowerment of our sisters. When seeing these beautiful women just sit as they awaited surgery at Central Evangelical Center of Lubango (CEML) in 2013, we wanted so much more for them. Also, upon hearing that they saw themselves as "unable", we began to pray for empowerment doors to open. We prayed they would one day say, "I am able!"
Upon seeing the women's interest in making baskets, Audrey Henderson (CEML Fistula Advocate) began providing opportunities for the women to learn to sew basic items. The women very much enjoyed this…something beautiful was happening. When Audrey went on leave, she asked Petra and Yolanda (Fistula Awareness and Prevention Advocates) if they could take over and keep the effort moving. Petra and Yolanda were able to fold this effort into their schedule. As they followed up with the women, they invited them to learn to sew more items that could be sold locally and in America. The women enjoyed this so much that even if Petra or Yolanda could not meet one week, the women would gather on their own to create their beautiful items.
The women were overjoyed when they received an order to make 50 surgical hats to be sold locally, and bags and jewelry holders to be sold through Hope for Our Sisters in America! What an opportunity to give back to doctors in the area, expand their efforts across the ocean, and have a sense of accomplishment they had never felt before.
Due to the love poured into our sisters by Petra and Yolanda, the women are learning critical crafting and selling skills and seeing first-hand that they are "able"! We are very hopeful about our sisters' futures as they are empowered to live to their fullest potential.
Deborah & The SGBV Group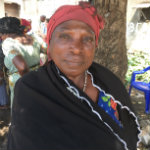 While in the Democratic Republic of the Congo (DRC), we met our first survivors of rape. Deborah is one of these beautiful and strong women. A widow with four grown children, she was abducted by armed young men and taken to the bush. After they took everything she owned, along with her clothes, they told her they wanted to rape her. She said "No!" so they shot her twice in the leg so she "could not get away." Physically unable to flee, she was assaulted several times and left to die.
Thankfully, the military found her and took her to be treated in a local hospital. Deborah not only carried the horror of her experience, but was told that she was HIV positive and had an infection in her leg from the bullet wounds. (She has since been told by doctors to have her leg amputated but that would render her "useless to her community", so she chooses to persist in pain.) Based on her story, no one would be surprised that she wanted to die. Deborah saw no hope in today or tomorrow.
But Deborah's spirit was revived when she met Adama while in the hospital. Adama, who serves as President of a local Sexual Gender-Based Violence Group (SGBV) through our partner, World Relief, shared with Deborah about this group and that Deborah was not alone in her suffering. She invited Deborah to come to a meeting to see if it might be a fit for her.
After meeting Adama and attending the SGBV Group, Deborah made a different choice – to live life to the fullest as best as she can. She decided to own her story, but not let it define her. She has found new hope and shares this with her community with the desire to bring about positive change.