One Woman Stories
Joaquina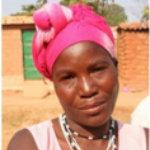 Joaquina is a 39 year-old woman with a gentle spirit and a warm smile. Even before suffering from fistula, she had suffered great loss – all four of her young children died of illnesses, a common occurrence in Africa. When we met her on a trip to Angola, she had been living off and on in the Kalukembe Patient Village for years. She shared a room with Luisa, a fellow fistula patient. It warmed our hearts to know that even after having been abandoned by their families, these two women had chosen to create one of their own.
Of the fifteen women with fistula that we met on that particular trip, Joaquina was the only one with a very strong odor of urine about her. The nurse at the hospital sprayed air freshener all around her when we came to sit with her, but we told her that this was not necessary – we loved Joaquina, odor and all.
Due to her fistula, Joaquina had leaked urine every day for many years. Joaquina's desire to be healed was so clear. We saw it in her expression and heard it in her words. Even without a family to return to, she shared with us that she very much wanted to return home once she was healed.
There was a sense of real hope in her heart, but her situation was complicated by scarring of the tissue, making it hard to close the fistula. Several attempts had already been made. While funds were made available for her surgeries, her all-day trips to and from the hospital over the years had become very expensive.
When we met Joaquina, she was ready for healing. She was ready to live again. We are thrilled to report that she is now dry! She is victorious in her battle against fistula and can begin a new life!
Gita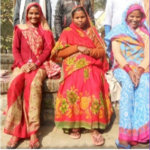 Hope for Our Sisters, Inc. has the honor partnering with Dr. Shirley Heywood in Surkhet, Nepal. Although our primary work with her has been funding fistula education sessions, we always celebrate the stories of healing that come through successful fistula surgery. Below is an account told by Dr. Heywood and authored by our team:
Three ladies from Kapilbastu, a poor district on the Indian border in the western region of Nepal, came to us for fistula surgery. They all spoke Abadi, not Nepali, and a lot of communication was through sign language or with Hindi interpreters, a language they could understand. This language barrier was isolating in itself as it prevented ease of communication between the medical team and them, or them and the other women. When they arrived, however, one woman was especially sad and withdrawn, often sitting alone and not wanting to engage with the others. Her name was Gita.
Gita was the first to have her surgery. Through the days that followed, as she slept in a dry bed with her catheter, she slowly began to cheer up and even laugh, though she was far from healed in spirit. We remove catheters two weeks after surgery, the first test of whether the bladder has healed. On the eve of the test, Gita poured out a stream of Abadi to me. Translated, it meant, 'If I am not healed after the test, please give me the medicine so I will die.'
All fistula sufferers have sad stories and without exception, Gita and her fellow Kapilbastu neighbors had endured isolation, fear and shame since their injury following prolonged, difficult labors. They were among the fortunate few who had husbands that stood by them in the years they leaked urine, and though they all lost babies when they acquired their fistulas, they did have other surviving children. There was much to have hope in, but Gita's despair was too large to feel it.
Happily, the bladder was healed – both for Gita (pictured in the blue sari with the dazzling smile) and the other two Kapilbastu women. All three of our sisters are free to be the wives and mothers they were called to be, and to live their lives among their communities again, healed inside and out. Please celebrate the new life of these three beautiful sisters with us!
Celia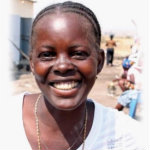 When we met Celia, she was 31 years old and the mother of six children – three living and three deceased. Celia knew what it meant to live a full life while also suffering from fistula and loss. She developed her fistula after her sixth pregnancy, when she was 29 years old. She was abandoned by her husband, so when she bravely chose to relocate to the Patient Village just off site from the Central Evangelical Medical Center of Lubango (CEML) to await a fistula repair, she had to leave her three young ones with family.
At the patient village, Celia had to adjust to living among 150 other patients. She had leaked feces every day for the last four years of her life. This was not the life she had imagined, and not the life any of us would choose. Yet somehow, despite her new surroundings and the grief that has painted her days, Celia had a contagious smile, enormous compassion for others and a spirit that is best described as victorious. She displayed amazing resilience – smiling and laughing with her fellow fistula sisters, translating for them and teasing them. She had held onto a thread of hope despite so much hardship.
Celia's all-day trips to CEML were quite expensive. Other women at the hospital have had to raise money for as long as seven years to pay for their transportation. But the funds are there for surgery as long as women can get to the hospital, and Celia's perseverance paid off. She was healed from all fistula, though left with some residual incontinence. However, with the help of a urethral plug, Celia can control her bladder and is living free again.
Lili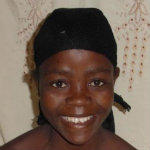 When Lili became a woman, she was married off to a man in the desert countryside of southwestern Angola. She was not his first wife, but one of several. When she was fourteen years old, she became pregnant. However, her delivery was obstructed and after many days, the family realized they needed help. They took her to the coast to a hospital in the provincial capital, but it was too late – her baby had died, and Lili had developed a fistula. She was now leaking urine and feces constantly.
Four years later, at age eighteen, someone told Lil's family about the mission hospital at Central Evangelical Medical Center of Lubango (CEML) and the group travelled to Lubango to see if Lili was a candidate for fistula repair. Because Lili spoke an uncommon language called Mukubal, her people group was often isolated and communication upon arriving at CEML was difficult. Luckily, one of the CEML employees speaks Herero, a similar language from Namibia, the country to the south, allowing at least some exchange of information. When Lili showed the CEML staff the scar on her abdomen, she was told her uterus been removed at the coastal hospital without her knowledge.
Lili underwent surgery for the second time in her young life. She ended up with a colostomy, an outlet for the bowel onto the surface of the skin that allows for defecation while the body heals. This can be extremely difficult to deal with, especially for someone who has already suffered so much trauma. Fortunately, Lili was encouraged by another young woman who already had an ostomy.
Lili soon became very adept at caring for herself. Additionally, she learned some words of Portuguese and Umbundu. The staff had lots of fun teaching her to write her name – something she had never tried before. She also was blessed with strong family support. Her family had camped near the hospital to be near to her because their home was very far away, with few modern conveniences. Her aunt was helping Lili by bringing water, and was shown that she could get hot water from the tap. She was astonished and shouted excitedly as she had never seen hot water coming from a tap before.
After a period of healing, Lili's colostomy was reversed and her whole family was able to return home with her. Her fistulas have been repaired and she is dry!
Maria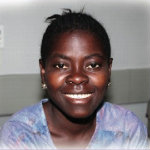 When we met Maria, she was twenty-nine years old and had already been widowed, abandoned, lost one child and endured separation from her two others. She was living in the patient village at Central Evangelical Medical Center of Lubango (CEML), having lived with a fistula for the last year, leaking urine and losing hope.
In her life before fistula, Maria made a living selling sugar and oil in her local marketplace. She had married a first husband, but both he and their one-year old child had died. She remarried and had two more children, four years apart, with her second husband, before becoming pregnant with a fourth child and developing a fistula. Her husband soon left her, unable to tolerate the odor of urine that constantly surrounded her.
With her two children at home, Maria was lying in bed awaiting surgery on our last day in Angola. We asked her for the photo shown, and she consented, but not before reaching into her purse to get out her earrings. A simple act, likely meaningless to women with access to healthcare and skilled birth attendants, but so important in this context. Maria proved to us that though her dignity had been shredded by fistula and shame, it was still there.
We are thrilled to report that Maria's surgery was a success and she is dry! She went back to her life with her unshakeable sense of self, her body healed and her spirit still her own.
Lourdes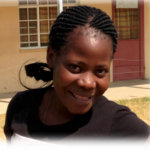 Lourdes is a bright spark of a woman, full of energy and fun despite enduring the terrible loss of both of her parents at an early age. Having grown up in Lubango, she found herself moving out to a small town to live with an aunt and uncle while she was finishing high school, and became pregnant.
On a Sunday, Lourdes went into labor and traveled to a small clinic in the town for assistance. The baby was moving a lot, but things were not progressing. On Monday, her baby was still moving but her labor continued. "We'll see," the nurses assured her. On Tuesday, she still continued to have pains, but the baby's movement had disappeared. Still, the nurses only said, "We'll see."
By Wednesday, Lourdes was weak with exhaustion and fainted. She was transferred urgently to a hospital an hour away. The staff there removed the baby, now dead, from her body. Lourdes' loss was accompanied by both rectal and vaginal fistulas. Leaking urine and stool, she now was living with grief, shame and uncertainty.
A colostomy was placed to allow Lourdes' bowel to heal and she grew stronger. A fistula repair surgery was attempted and was a success! Lourdes was healed of both fistulas. When she left the hospital, she was looking forward to returning to school and a renewed life.